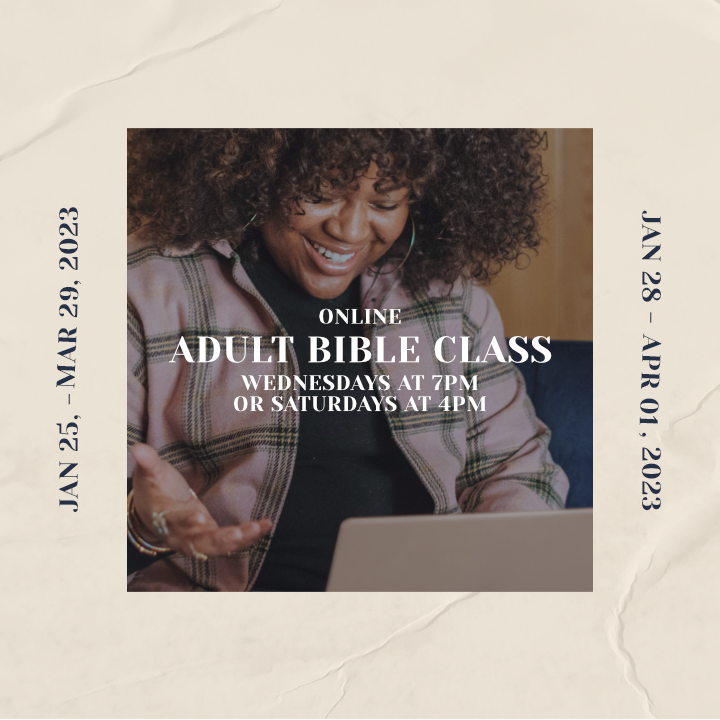 Adult Bible Classes Winter 2023
Hope Christian Church is excited to offer Online Adult Bible Classes Winter 2023
Beginning January 25, 2023, HCC will offer five adult bible classes to assist the body in growing in knowledge of God and His Word.
The classes will be held online weekly, Wednesdays @7pm and Saturdays @4pm
January 25, 2023 - April 1, 2023
---
Classes Available:
Wednesdays @7pm

:
The Foundations of Christian Doctrine - "
A practical guide to Christian Belief - just as a building needs a strong foundation, Christians need a solid understanding of theology to soundly interpret Scripture."
The Authority of The Believer -
"Faith, purely held and defended against the temptations and distractions of life, is a tool of immense use - the power of Christ and the heavenly Lord can serve as a great support; thus, the Authority of The Believer. "
The King's Daughter

–

"Prepare for a deeper walk with God as Diana Hagee challenges you to see yourself through your Father's eyes. Scripture, prayer, and proclamation will lead you to claim your inheritance as a daughter of the King."
---
Saturdays @4pm:
The Warriors Heart

(FOR MEN)

-

"An unseen war rages and everyone is involved in one way or another. Every Christian entered the war zone. No one can be a bystander, and the stakes are high. What is this war? And what is your part in it?"
---
Pre-Requisite: You must purchase the book for the class from anywhere books are sold.
Book Titles:
The Foundations of Christian Doctrine by Kevin J Conner
The King's Daughter – Becoming A Woman of God- Diana Hagee
The Coming of God's Kingdom- Inductive Study of Matthew- Kay Arthur
The Authority of The Believer: Principals Set Forth in the Epistle to the Ephesians- J.A.
MacMillan
The Warriors Heart-Rules of Engagement for the Spiritual War Zone- Bishop Harry Jackson
**Class size is limited **
| | | |
| --- | --- | --- |
| + | | |

Divorce Care is a safe place where caring people come alongside you as you find healing from the pain of separation or divorce. At this 13-week, video-based support group program, you'll find helpful counsel to manage the emotional turmoil and practical tools for decision-making.

• Online Registration is not open yet

• Sessions begin Wednesday, March 22, 2023

• Every Wednesday 7:00pm - 9:00 pm ET

• Sessions ONLINE




| | | |
| --- | --- | --- |
| + | | |

Receive help and encouragement after the death of a loved one.
GriefShare is for people grieving the death of a family member or friend.
GriefShare is a special weekly seminar and support group designed to help you rebuild your life. We know it hurts, and we want to help. You are welcome to begin attending the GriefShare group at any session. Each is "self-contained," so you do not have to attend in sequence.

** Pre-requisite - GriefShare Workbook

•Every Wednesday 7:00pm - 8:30 pm

•Sessions ONLINE