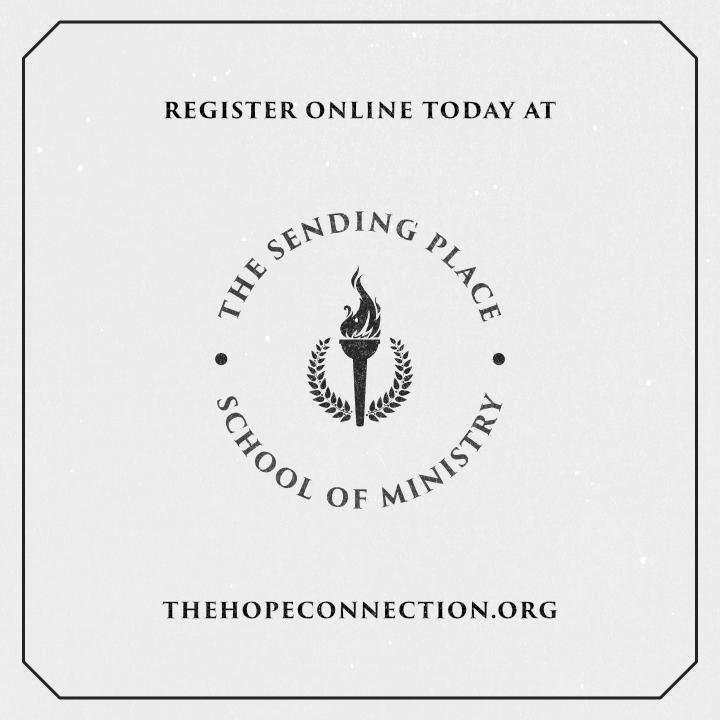 Sending Place School of Ministry
The Sending Place School of Ministry (SOM) Leadership Training is a 24- month intensive to include regular online instruction and special in person Masterclass sessions from world class instructors to train and equip leaders for ministry. The only registration requirement is to be a member of HCC (completion of GROW classes).
So, whether you are called to the marketplace, ordained five-fold ministry, missions, church planting, or para-church ministry, the Sending Place SOM Leadership Training will prepare you for the present culture.

The Sending Place SOM is not an accredited or degree granting program.
Sending Place SOM Cohort 2 begins on September 20, 2023.
| | | |
| --- | --- | --- |
| + | | Sending Place School of Ministry FAQ's |

The Sending Place School of Ministry(SOM)

What is The Sending Place School of Ministry?

A training program to develop Christian leaders with a biblical world view and to send them out equipped and prepared to pursue the individual ministry on their lives.

How did the idea of The Sending Place come about?

In 2018, the Lord spoke to Pastor Jackson in a time of prayer about days to come. Specifically, the Lord began to unfold his vision to her for a training center to be birthed. As she continued to pray while she stepped into the senior pastorate and was commissioned as an Apostle to the Body of Christ, she spoke with her spiritual father and other key prophetic voices in her life. Pastor Jackson received several confirming words of the timing and the call of God upon her life to wear the mantle of government and education and to birth institutions. The Sending Place is a part of the vision the Lord has called her to steward.

How does it fit into the vision and mission of HCC?

Our vision here at HCC:

"In His name the nations will put their hope" (Matthew 12:21)

Empowering Families with Hope and Destiny through Prayer, Worship and The Word.

H: Healing and Practical Helps

O: Developing Overcomers

P: Propelled by Prayer & Praise

E: Empathy and Compassion for the Lost, the Last, the Least

Our mission here at HCC:

Turning the hearts of youth and families to God and each other (Malachi 4:5-6)

Developing our God given potential in order to win in every area of our lives (1 Timothy 4:14, 1 John 2:27)

Advancing the Kingdom of God; first through our circles of influence then to the nations abroad (Matthew 28:19)

The Sending Place SOM is the vehicle through which members of the body at HCC can begin to know and pursue the call of God upon their life. The Sending Place SOM prepares each leader to be an ambassador of H.O.P.E., to equip others and to lead and train others.

What are the requirements for The Sending Place?

You must be a member of Hope Christian Church (completion of GROW classes)

Who is the ideal candidate for The Sending Place?

A Christian 18 or older who desires to learn and grow in a Spirit Filled Environment and be equipped to move forward in greater expression of the call of God upon their life.

How will this level of training advance the body of Christ?

Isaiah 61:6 states that those who have received the great exchange that the Good News of the Gospel declares will be blessed by the Lord as they fulfill, by faith, the mandate as a minister.

Will The Sending Place help me mature as a Christian leader?

As an emerging or established leader in the marketplace or one seeking to lead within the church, it will provoke you to maturity in Christ.

How would I prepare for The Sending Place spiritually?

Attending The Sending Place SOM is something that should be considered through prayer. There is no other specialized training or prep work that will need to be done in advance. Communications will be sent out once enrolled in the program and an Orientation will be held.

Will I receive a certificate when I have completed the Sending Place program?

Yes. Every graduate at The Sending Place will receive a certificate of completion in their specialized leadership track.

What could I receive a certificate in?

The Sending Place School of Ministry is made up of 3 specialized leadership tracks:

Marketplace Ministry

Ordained Ministry

Church Planting/Missions/Para-Church Ministry

Is The Sending Place accredited?

Not at this time. The Sending Place SOM is not an accredited or degree granting program.

Will there be a graduation for The Sending Place?

Yes. A graduation ceremony will be held for those who complete the program.

While I attend The Sending Place will I have a ministry internship?

Yes. Much of ministry training is taught and caught. All participants will commit to at least 1 corporate prayer meeting a week and will serve in an area of need at HCC.

When does registration open?

Registration is now open.

Where can I register?

Website: Thehopeconnection.org

Mobile App: thehopeconnection.org

When does The Sending Place SOM officially begin?

Classes begin Wednesday September 20, 2023 @ 7pm. Orientation will be held on September 6, 2023 @ 7:00pm.

What day of the week will the classes be held?

Wednesday evening @ 7 pm

Will the classes be online or in person?

Both. 1 online class/week will be held on Wednesday evenings. In person Masterclasses will take place on a regular bases throughout the program.

What is the cost of The Sending Place?

$2633 total

$100 Deposit

A payment plan will be available

How long will the program last?

24 months. Cohort 2 begins September 2023 and ends September 2025

If I am an ordained leader at HCC, will I be required to attend The Sending Place School of Ministry?

No. You are welcome to attend hosted SOM trainings that are open to the church.

Do I have to be a student in The Sending Place to attend Master Classes?

No. Master Classes will be open to all who register to attend, much like for HCC conferences. Some Master Classes will be accompanied by a fee to attend for non-students.

Is it possible to attend only the specialized track or Master Classes at The Sending Place and still receive a certificate of completion?

No. You must attend the entire program to be eligible for certification.