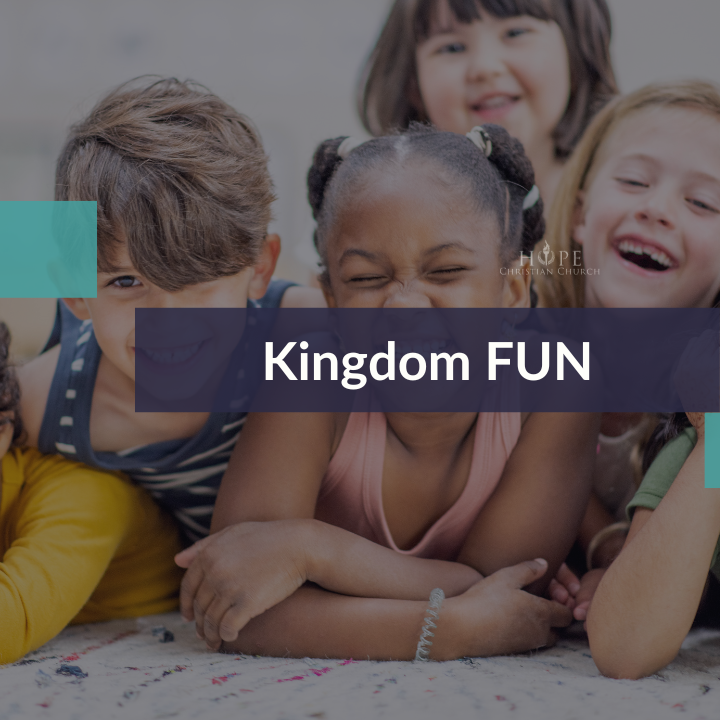 Kingdom F.U.N. serves families with children nursery age through fourth grade. Children should enjoy learning about Jesus, have fun while learning, gain an understanding about the Christian faith, and network with other families in the children's ministry.
An evangelistic emphasis frames each lesson. Our staff believes that children who know Christ are powerful and able to do great work in the name of Jesus!
F.U.N. stands for Faith in God, Understanding God's will, and Networking with families.
Our goal is to be a refuge of hope for children of every race and culture, to provide tools, opportunities and teaching by which children can receive salvation, the infilling of the Holy Spirit, and the means to grow and serve as a disciple of Christ, and to bring children to the place of affecting their world through the worship of God.
Kingdom F.U.N., the children's ministry at HOPE is designed for children of all ages. Creative age-appropriate instruction is offered along with ASL for hearing impaired children.
Very young children are cared for in the nursery and pre-school classes. Using the familiar school grades, catechism classes are held for nursery through third grade to provide instruction that gives the basics on the Bible–who, what, when, where, and how. This gives children and their parents an opportunity for further study at home to discuss why.
---
Classroom Instruction for each class is based on the following:
Nursery (Birth through 2 years)
Love of Jesus, group focus/directed play; First experience in teacher/child relationship
Preschool (2 & 3 years)
Beginner's bible lesson; First classroom experience; Creative activities.
Kindergarten (4 & 5 years)
Bible characters and how they lived; Hands on activities.
1st & 2nd grade
Introduced to biblical truths; Basic foundations.
3rd & 4th grade
Becomes familiar with the bible; Fundamental biblical truths to everyday living.